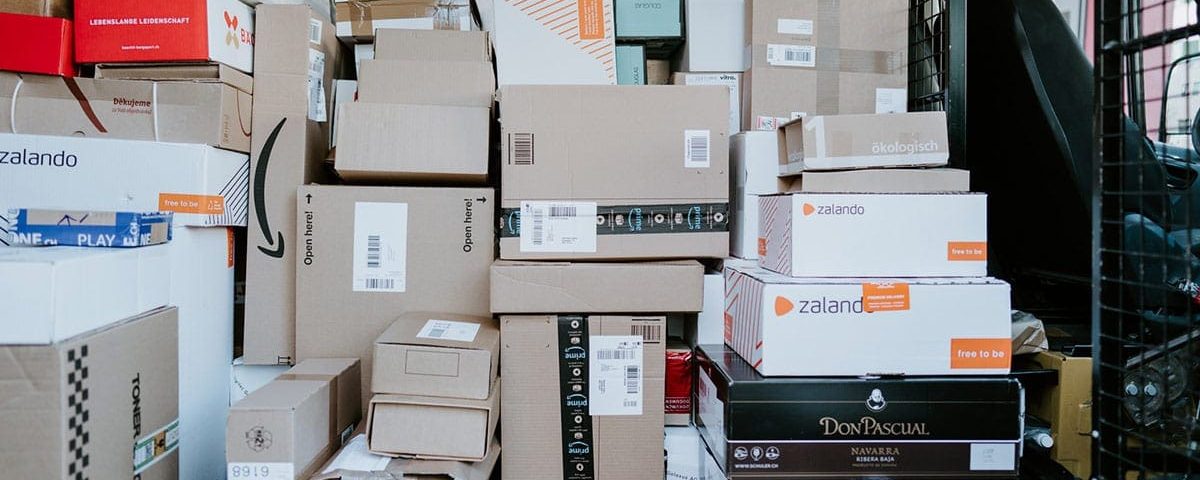 Christmas is an important time in many cultures. These different societies tend to share their various components, like the widespread practice of gifts from Santa Claus, who's also called Ded Moroz, Father Christmas, and Saint Nicholas, depending on the region. But how do so many objects from the 'North Pole' get sent to homes around the world? What route do the toys take?
In this historic time of bottlenecks in transportation and logistics, we're analyzing how everything acquired reaches cities, as well as which regions of the world they come from and by which routes. If you thought of the Three Kings as making magic, wait until you see the highly digitized supply chain or urban logistics transporting goods from point A to point B.
Where do toys come from?
Although magical beings obviously put the toys under the Christmas tree, by the fireplace, on the terrace, at the front door, or in some other designated spot around the home, the objects must be manufactured somewhere. A century ago, those places were Europe and North America, where millions of toys a year were made.
Well-known brands like Lego, Fisher-Price, Playmobil, Nenuco, Famosa, and Hasbro, to name a few, had all their factories in countries like the United States, Spain, and Germany. Soon, though, others like Bandai (Japanese) and Vtech (China) made the leap to the West, and the West began to make the leap to Asia with their relocations. Currently, most toys are made in China, India, Cambodia, and Bangladesh.
These factories around the world started their activity using 'Western' designs (mainly Central European and American) as a reference, but in recent decades, they have innovated their own ways, as shown by fairs like the 'Shenzhen International Toy & Education Fair' (中国 玩 真展). Their toy industry is highly developed.
Maritime transit and the New Silk Road

Bukit Merah Port, Singapore
Transporting objects by sea in large container ships is undoubtedly the most affordable option if there's no rail infrastructure in place. This is according to a report by the European Chemical Transport Association on CO2 in transporting raw materials (which focuses on the chemical industry but applies to any material). An airplane, on the other hand, releases between 600 and 800 kg CO2/T·km, while that figure for a container vessel is usually under 20 kg CO2 /T·km. That significant difference is reflected in costs.
Electrified rail routes have dramatically lower impact and higher efficiency. Thus, the French ADEME holds the record with 1.8 kg CO2 /T·km due to its predominantly nuclear electrification. Without this source, railway electrification is usually under 15 kg CO2 /T·km. It's no wonder that China is building a New Silk Road.
Its railway projects set out from Yiwu and Shanghai and go as far as Madrid, on the other side of the world. This map shows the routes that the majority of the world's toys follow, a journey lasting about 16 days that crosses much of Eurasia. China sends container vessels to reach the Americas. However, it is already working on a railway line across the Bering Strait, which would have a lower environmental impact than the sea route.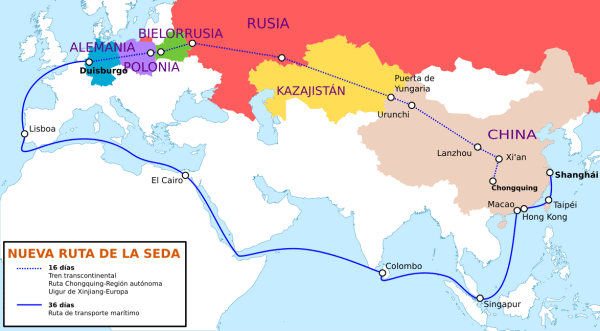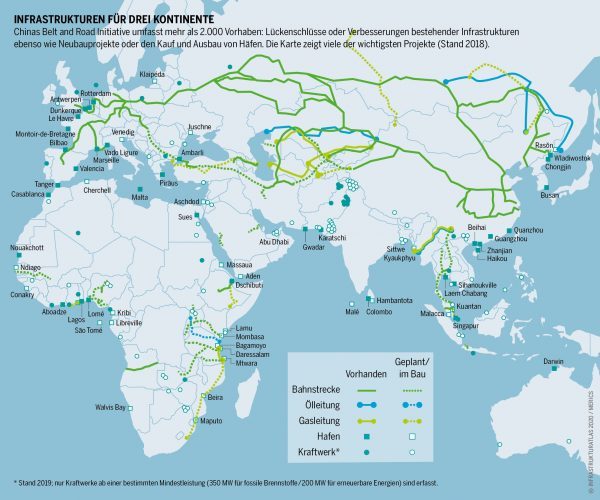 The New Silk Road in its railway and maritime deployment.
There has been a particular trend towards reshoring European and North American factories in recent years, and sectors like textile manufacturing, print-on-demand, and some toy companies are making a comeback. Still, though, they're only doing so at a trickling pace. For now, Santa Claus and his helpers will travel by boat or train from China, and they'll continue to do so for decades to come. The Magi's reindeer will keep getting around on water skates.
How do gifts get to our cities?
Since most toys and other gifts reach the shores of their respective countries by ship (countries that have a coast, of course), there are two ways to transport them inland. The most sustainable countries do so by means of railways and large convoys, and those that are less so do this by motorways or roads on trucks of different sizes. This is the case all the way to distribution centers, the typical departure point for primarily medium-sized trucks.
The route from distribution centers to small urban or suburban warehouses is one of the critical points in the supply chain. This is because, while the analogous step at the beginning of the chain entails concentration at the same point, it is now necessary to be careful about which product is going to which warehouse. At this point, logistics is key to avoiding mistakes and saving on costs.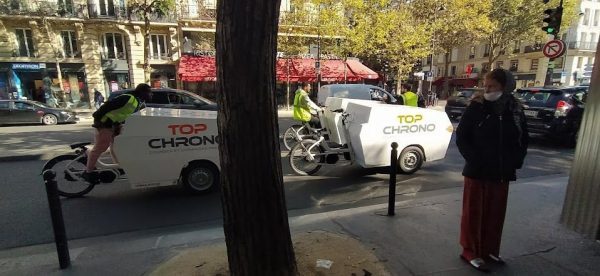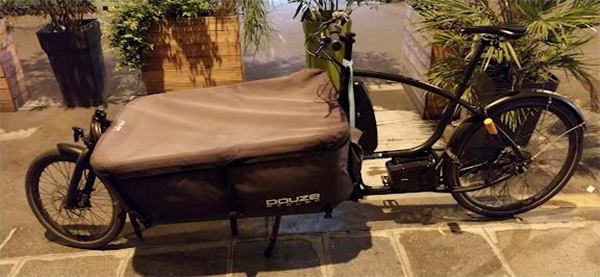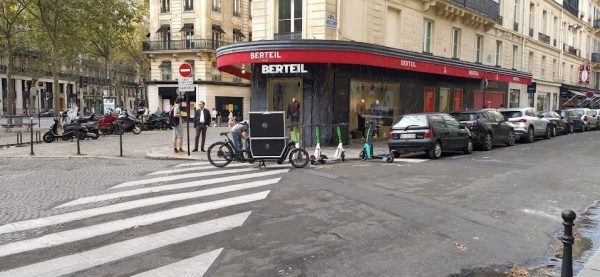 Parisian delivery bikes, a city where the last mile is green
With increasingly frequent home delivery, the last mile is by far the most complex point in the entire supply chain. It requires having a fleet of 'small' vehicles (originally vans, but increasingly cargo bikes, as is the case in Paris) with high urban permeability, and it entails coordinating deliveries with the inhabitants.
Fun fact: it's been shown that the shipping method with the lowest environmental impact is online ordering with delivery at a pick-up point, when compared with online purchasing and home delivery or buying in a nearby store. This optimizes factors like distance traveled by the product and availability.
Gifts, a Christmastime bottleneck for urban logistics
Last-mile delivery companies bring in a good part of their turnover on these dates. Now that buying via e-commerce has established itself as the default method of buying, the majority of Christmas gifts have to follow the most complex route possible: from the manufacturer to our home. Given the total volume, services tend to collapse on dates like Christmas.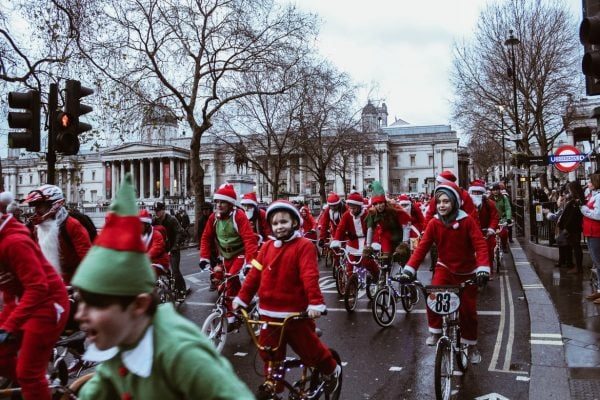 Given that the number of products handled at Christmas is a record high, it doesn't make much sense to design the entire logistics network for this peak. Instead, it's designed for a noticeably lower load level. But as, ahem, Santa Claus's customers, we hope to get our presents on time. Thus begins a logistics race against the clock not only to deliver packages but also for the different points of the chain not to get bogged down in a traffic jam.
Not being able to distribute gifts in a neighborhood because of a snowstorm means that warehouses are filled to the point of collapse, and that gifts that are already coming on the back of seafaring 'sleds' won't have room to unload. Spinning this complex web of a framework is a real challenge.
This year will be shaped by the 'container crisis,' an event brought on by multiple roots that is manifesting as global saturation in transportation networks. It's time to get creative. We have to remember that some Chinese manufacturers, the world's toyshop, have had the great idea of prioritizing small, soft toys to ensure a certain level of sale. Santa Claus is reinventing himself to deliver all the gifts for yet another year.