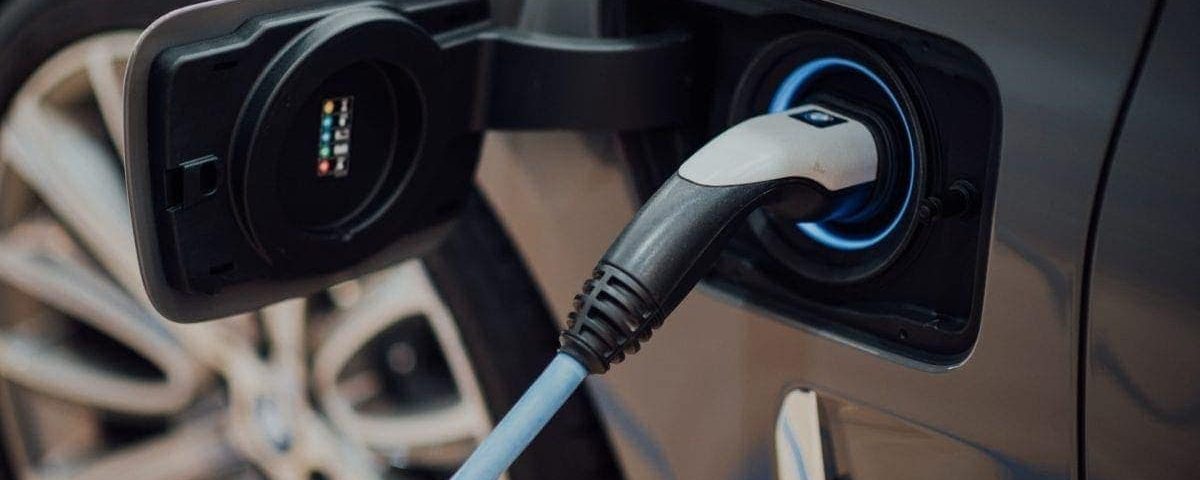 The European Union establishes, within its framework of action on climate and energy, a goal to reduce greenhouse gas emissions for all member countries by at least 40% by 2030 compared to 1990 levels.
One of the strategies that would contribute to meeting these objectives is the replacement of combustion vehicles with electric vehicles on our roads.
In this article we will review the current situation of the transition towards an all-electric propulsion and some of the main issues that affect a driver's decision to switch.
Expansion of Electric Vehicles (EV) in Europe
According to the report "Hitting the EV inflection point" by Bloomberg Finance, sales of Electric Vehicles (EV) in Europe have grown significantly on average but unevenly across territories.
In the leading group, Norway, which has set a target to phase out combustion engine vehicles (ICE) by 2025, stands out with an astounding EV share of 76.4% of total passenger vehicles sold in 2020.
At the other end of the list, southern countries like Spain or France, which have delayed their ICE sales phase-out targets to 2040, saw much more modest EV shares of 5.1% and 11.5% respectively in 2020.
2020 Europe EV share of total passenger vehicle Sales
Source: "Hitting the EV inflection point", Bloomberg Finance 2021
Which factors influence consumers' purchase of an electric vehicle?
In addition to government policies, at this point there are still some technical challenges that can negatively affect a consumer's decision to buy an EV:
Higher manufacturing costs. Today an electric vehicle is approximately 33% more expensive than is equivalent ICE, mainly due to the high cost of batteries.
Range Anxiety. This term describes a consumer's fear to run out of battery while travelling and not being able to recharge. Although it is increasingly common to see personal charging points at home, this solution only covers the needs of short day-to-day travel which can be easily covered with the car's autonomy. However, long journeys remain to be a challenge as existing recharging infrastructure is by no means comparable in speed, convenience, and availability to the current network of gas stations.
The issue with manufacturing costs is expected to be solved soon. Enhancements in battery production processes and economies of scale derived from higher production levels will lead to price parity between electric and combustion vehicles between 2025 and 2027.
Beating range anxiety will be a different animal. Density of charging points is still very low in Southern and Easter Europe and a great effort will be needed to achieve coverage levels required for widespread adoption of EV, especially considering the expected rise on EV sales, which are expected to account for a half of all vehicles sold by the end of this decade.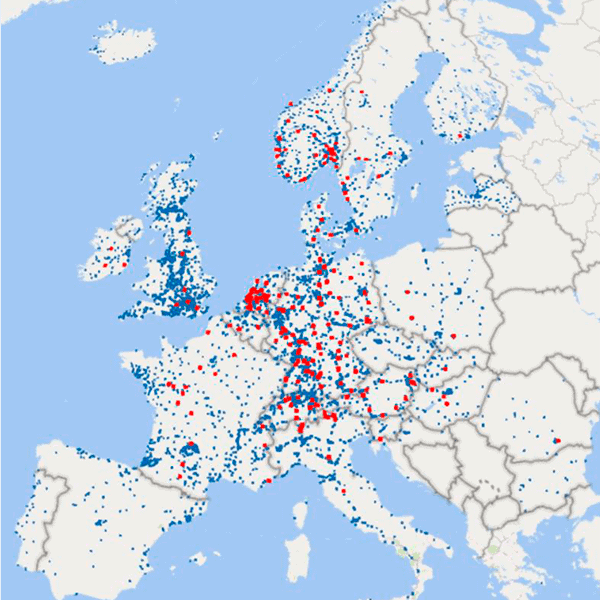 Distribution of CCS fast (blue) and CCS ultra-fast (red) public charge points
Source: Transportenvironment.org (2021)
 This situation has favored the creation of new innovative solutions around EV charging like battery swap services like gogoro or NIO power swap, which are very developed in Asia.
And What if vehicles could be recharge while driving?
Although it sounds like science fiction, work has been going on for some years now to develop these solutions and there are currently two technologies being tested:
Inductive Technology: Electric energy is generated through magnetic induction due to the use of coils located below the road. Resulting electricity is captured by specific equipment installed in the vehicles, which then transfer it to the vehicle's battery. The transfer of energy from the road to the vehicle happens wirelessly, without a need for the adaptor to be in contact with the road. Some of the companies that are working on these solutions are Magment (Alemania) and Electreon (Israel).
Conductive Technology: In this case, the electricity is transferred to the vehicle by means of a charger installed in the car which physically connects with an electrified track installed on the road, very much like the "Scalextric" slot cars we have all played with. This technology is being developed and tested in Sweden by Evias and Elonroad.
Out of these two, Inductive technology seems to be the one with the highest potential, due to the support provided by the industry (specifications are part of standard SAE J2954) as well as the variety of use cases identified:
Static Charging: EVs need to be parked above a specific charging area equipped with magnetic coils. Possible applications: Recharge Service offered to private vehicles in parking lots, Recharge of public electric buses while at stops en route. Static charging is the most developed use case for inductive recharge and there are already several commercial solutions available in the market today.
Semi-dynamic Charging. EVs are charged while moving along a reserved section of a road, alternating periods of inactivity. Possible application: Taxi stops.
Dinamic Charging. EVs are charged while the vehicle drives on certain lanes of a road at normal speed.
Car to Grid (C2G). In this case, electric energy surplus can be transferred in reverse mode, from the car to the road. In exchange, drivers can get a credit for it that could later be used to buy other services. In addition, the ability to "recycle" this energy provides a source of green energy to the road.
Once enough roads are equipped with dynamic charging capabilities, car batteries will require less capacity, which will have a lowering-effect on manufacturing costs.
Finally, charging vehicles while driving will create new sources of revenue for infrastructure operators and enhance the portfolio of services offered to consumers. Technologies like IoT and Blockchain could help us create the information systems required to monetize this service.
¿Which pilot projects are being run today?
| | | | |
| --- | --- | --- | --- |
| Project | Location | Participants | Technology |
| ASPIRE | Indiana & Utah, EE.UU. | INDOT,  Magment, Electreon | Inductive |
| eConcrete | Alemania | Strabag, Magment | Inductive |
| Arena del futuro | A35, Italia | Stellantis, Iveco, Iveco Bus, ABB, Prysmian Group, Electreon,and other public and private organizations in Italy | Inductive |
| | Gotland, Suecia | Electreon AB and other public and private organizations | Inductive |
| | Arlanda, Suecia | NCC, Elways (EVIAS), ABT Bolagen and Kilenkrysset | Conductive |
| | Lund, Suecia | Elonroad AB, Lund municipality, Lund University and Solaris Sverige AB. | Conductive |
At Ferrovial, we are closely and actively following these technological developments in order to assess their application in the markets in which we operate, and we hope we can share news about this with all of you very soon.