The first annual International Drone Day took place on March 14, 2015 and saw participation from 40,000 people across 150 countries. Following its great success, the annual celebration been growing rapidly every year, with over 80,000 people getting involved last year.
This year, under the motto 'Drones are Good', 150 simultaneous events will be taking place around the world not only to celebrate flying, but also to educate the public, media, and lawmakers about their positive influence on society. The Academy of Model Aeronautics 'AMA' is the day's leading sponsor, and event activities will include drone racing, aerial photography and videography instruction, as well as search and rescue demonstrations.
Drone usage at Ferrovial
At the end of 2014, the first experimental flight with drones was carried out for the conventional survey of a construction site under construction by Ferrovial Agroman. From this moment, drones have been introduced as work tools that facilitate processes in the projects across Ferrovial's different business lines.
At the beginning of 2016, Ferrovial launched a Digital Hub with the aim of making the most of the opportunities that have arisen from the digitization of society. Alongside teams of experts specialising in emerging technologies such as the Internet of Things, Big Data and Artificial Intelligence, is a team dedicated to drone technology.
In order to celebrate International Drone Day, we have selected a series of blog posts and news articles which are dedicated these fascinating flying objects and how they have enhanced the company.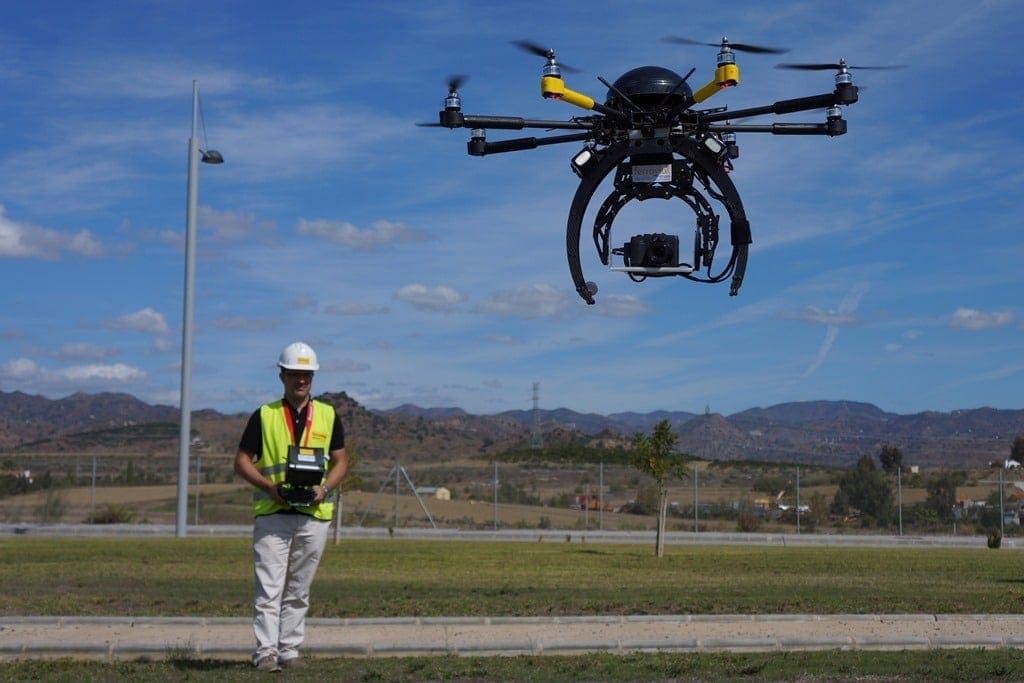 Check out these articles to celebrate International Drone Day 2017
Ever wondered how drones have impacted conventional surveying? Not only are they environmentally friendly, but they also improve worker safety, minimize costs and reduce execution times. Read about Ferrovial's first experimental flight with drones in 2014, which had the aim of achieving a land surveying system with centimetre accuracy using Remotely Piloted Aircraft Systems (RPAS).
When it comes to inspection, asset owners need to drive down costs, but often the demands on today's networks mean that inspections need to be done faster and more often. This blog post explores how drones can replace human inspection of assets (walking, roped access, using binoculars) and as a result, facilitate this often complex task.
A key example of this has been executed by our UK subsidiary, Amey, and VTOL Technologies, who have used drones to carry out the inspection of the  166 year old Britannia Bridge in Wales. In spite of carrying a large volume of passengers via train and car daily, the entire inspection was carried out successfully without causing traffic disruption, 130m above Menai Street (as explained in this news article.)
Three years have gone by since Ferrovial Agroman bought its first aircraft, and in those three years the company has built up plenty of experience in the field of drones in construction. The desire to learn and the search for alternative solutions in an innovative market with a large potential for growth leads us to continually discover new applications and new tools with which to complement our drones and achieve ever more surprising results…
Whilst on the topic of construction, Head of Innovation for Zone 1 at Ferrovial Agroman, Antonio García Gómez provided us with an interesting insight on how drones make construction more efficient. He explains the types of drones used by the company, who they are operated by and the advantages which they can bring.
Whether it be rain, flooding, droughts or oil erosion, meteorological changes are impacting the world's road infrastructure. In order to adapt to this, Ferrovial Agroman's R&D Department have developed a BIM project which seeks to develop innovative solutions for highway and road infrastructures. Through collaboration with University of Vigo, the project makes use of drones, as well as specialized in laser scan, thermography and georradar.
The Scottish Ministry of Transport has published a video filmed with drones which shows the construction status of Ferrovial's M8 M73 M74 highway project. The aerial images demonstrate the enormous scope of this infrastructure project which, with a total investment of nearly £500 million, should improve the highway network in Central Scotland.