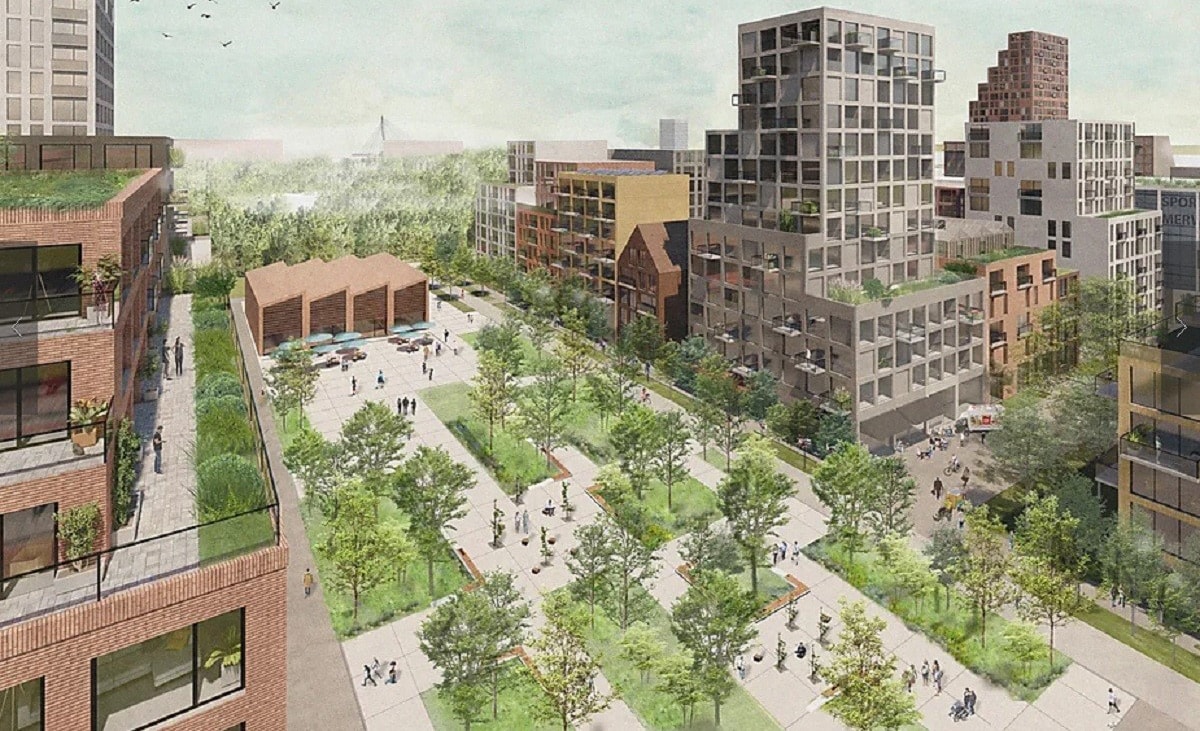 Merwede will be one of the most interesting districts in Utrecht, the Netherlands. This neighborhood features an urban design that caters to its residents' quality of life by emphasizing green spaces and supporting pedestrians and cyclists. In fact, there will only be one private vehicle for every three households – a record in Europe.
Evolving from a 20th-century industrial area to a 21st-century health-oriented smart city, Merwede is one of the most outstanding examples of what we can achieve as a city when everyone involved is working together. This has been the case with the local government, neighborhood associations, and businesses working towards the residents' quality of life in this future neighborhood.
Designing a neighborhood with technical metrics
Merwede isn't going to grow organically like so many other urban settings. Instead, it was designed from the ground up with technical metrics in mind. Instead of slowly developing activity over time, this neighborhood is the answer to the question, "What is the best neighborhood we can build in this space?" Of course, there were other solutions, but this final candidate is a brilliant one.
The neighborhood's first design is now being reviewed by residents, and big changes beyond a few nuances are unlikely at this point. The reason is that the design maximizes a factor prized above all else by cities: their inhabitants' social well-being. It simultaneously minimizes factors like dependence on fuel and increases the amount of time people can actually use.
These sorts of metrics weren't considered when smart cities were first designed years ago. Before, everything was a little colder, more functional, and isolated. For instance, the sewer system was designed without accounting for future redesigns for the parks, or building a technological mini-city was approved without analyzing the impact on the surrounding neighborhood.
Merwede, the mini-city with few cars
Merwede is often referred to as the "car-free neighborhood," but this description is not entirely accurate. True, the district will have fewer private vehicles than other areas. The European list is led by Liechtenstein, with 773 cars per 1,000 inhabitants, and Luxembourg 662.
Since Merwede will have one private vehicle for every three families, even with one-person 'families' there will be 333 cars for every 1000 inhabitants. If we take the Eurozone's average of 2.3 inhabitants per household, we get figures below one car per 1.5 person. That figure is unheard of in any European capital.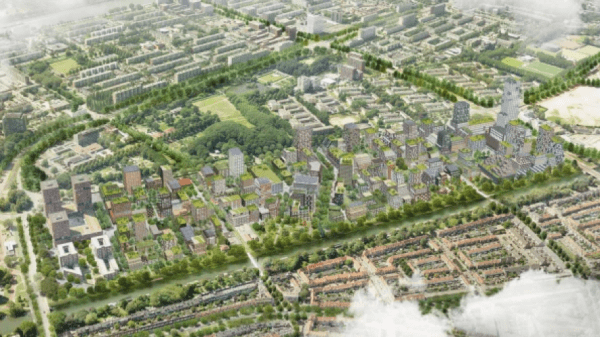 In recent years, there has been a political push to design car-free cities. However, it is often quite complex to make decisions in organic environments because of how factors impact each other. That won't be the case in this ad hoc district.
But could you live without a vehicle of your own?
Private vehicles are a versatile, highly useful tool, no doubt about it. They make life a lot simpler and offer flexibility that can hardly be disputed. The problem is the negative externalities, a large set of factors that don't suit us. As with any tool, its scope of application must be well-defined.
In addition to air pollution, other less well-known negative externalities include our physical well-being or obesity. Scientific studies consistently show that people who drive regularly (versus those who walk, bike, or use public transit) have more problems with being overweight. Similarly, the more pedestrian-friendly cities show greater health benefits.
Scientific literature also links the city's structure to the number of private vehicles. It isn't hard to see how a city that's spread out and has little public transit will require more cars, and how a compact city will need fewer vehicles. Merwede will be among the latter, a feat of urban engineering.
Green areas will be abundant, yet this district has opted for close-knit apartment buildings in lieu of single-family homes. This way, most trips can be made on foot or by bike. Moreover, the rest of Utrecht is accessible by public transit.
Supporting low-impact mobility solutions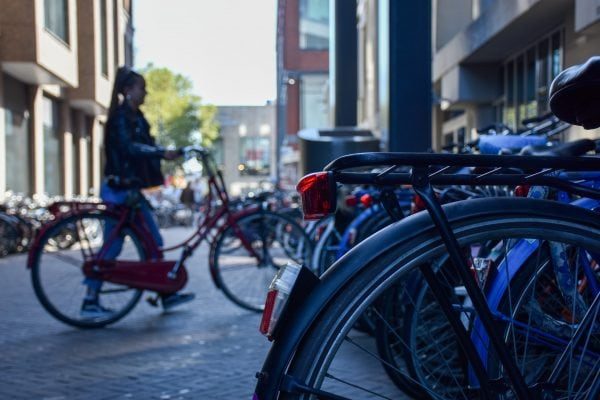 The idea isn't to eliminate cars from the district but to use them only when necessary. Once getting to work in Utrecht by public transit and making sure that the residents of Merwede can cover all their needs on foot, the only other car trips to consider are those of high importance. Those will keep on being a necessity.
Carsharing and carpooling are two modes of transportation that will be promoted in the neighborhood, as well as electric mobility and shared bikes. In other words, mixed modes of transportation will be encouraged, particularly the bicycle – already widespread in the Netherlands and an indisputable symbol of its culture. All without compromising on business.
Local business, urban management's top fan
Another very interesting point about Merwede is the same as in Paris mayor Anne Hidalgo's proposal for the "15-minute city." To prioritize internal routes and keep people from going elsewhere for shopping, many of the buildings will have businesses on the ground floor. These local businesses will profit from foot traffic.
The partial or complete pedestrianization of emblematic streets and squares around the world —Trafalgar Square (London), Gran Vía (Madrid), Broadway (New York), and so on— suggests that local commerce is the big winner (after residents). Walking by storefronts has a greater impact on purchases than shopping by car.
Thus, this district in Utrecht has already planned to invest in urban rollout whose functionality has already been proven, bypassing the gradual development through which more historied and often more complex environments will have to go through. Unfortunately, not all neighborhoods will be able to follow this plan from scratch, but they can learn from Merwede and its technical approach.