Concern for ecological, social, and economic issues is the basis of sustainable tourism, also known as "responsible tourism." The fundamentals of sustainable tourism minimize some of the negative effects of the industry. Several environmental studies define sustainable tourism as an approach to growth that prioritizes future generations' well-being without compromising existing ones' capacity to meet their basic needs. More than ever, ecotourism (sustainable tourism) is very important to the tourism industry. Introducing sustainable tourism helps maintain the environment and our planet and leave the best for future generations.
Importance of sustainable tourism and its species 
One of the most important aspects of tourism is responsible travel. Modern tourism speaks of the need to consider the ecological effects of tourism development and the actions of those who participate in it. That is why everyone involved in the tourism industry must behave responsibly while dealing with sustainable tourism. That includes those who run hotels, apartments, and houses for the guests who stay there. There is a strong connection between responsible and sustainable tourism as both seek to minimize negative effects on local communities, the economy, and the environment. They are making concerted efforts to reduce their impact in all spheres and ensure a legacy for future generations through sustainable tourism.
You are one of those who recognized the importance of sustainable tourism. If you also want to apply that to your children and family, the types of sustainable tourism that you can try are:
Nature tourism- any activities that involve going to nature

Garden tourism- as an escape from the urban influence

Jungle tourism- escape from reality

Nautical tourism – also known as marine tourism

Glamping- advanced camping experience
Nature tourism- any activities that involve going to nature
Nature tourism is a type of ecotourism that emphasizes nature and natural sites, environmental protection, and outdoor activities. Hiking, trekking, camping, animal watching, and other outdoor activities are popular among tourists. In rural and suburban regions, nature tourism is as popular as any other type of vacation.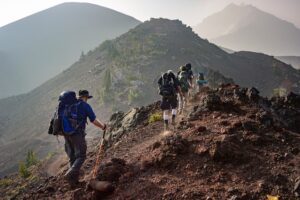 People hiking on a mountain and discussing sustainable tourism and how to travel responsibly.
Garden tourism- as an escape from the urban influence
The term "garden tourism" is often used to describe tourism involving visits to gardens and horticulture sites. This type of tourism is popular in big cities, where people can escape from the hustle and bustle of the city for a while and enjoy the natural environment. These include famous formal gardens and botanical gardens. Also, gardening, landscaping, and landscape architectural skills are often celebrated through various festivals in the field of gardening.
Jungle tourism- escape from reality
Traveling and exploring a jungle is known as "jungle tourism." When visiting the forest, many vacationers participate in various adventurous pursuits. The most well-liked forms of recreation and amusement include zip line, jungle safaris, kayaking, and canopy walks. Green tourism in tropical areas has flourished in recent years, and jungle-themed tours have emerged as a key component of this kind of travel.
Nautical tourism- also known as marine tourism
Nautical tourism is a specific kind of vacation that uses ships and boats. In a nutshell, a tourist sleeps abroad in a floating hotel, such as a boat, sailboat, cruise ship, etc., while traveling. Many festivals on the water include activities like fishing in deep water, scuba diving, and boating. Nautical tourism can also be referred to as maritime tourism.
Glamping- advanced camping experience
The term "glamping" comes from a combination of "glamour" and "camping." This is an upgraded type of camping. Camping tourism includes any camping that combines traditional camping with tourist products and services. The "glamping" trend seems to have gained popularity lately. This is not a typical camping experience, but it has no negative effects on the natural world, so we included it on our list. Camping tents, cabins, and treehouses are standard specialized equipment used in this activity.
It hasn't become a trend yet, but many people have decided to move to nature for a while. Job mobility and fatigue from the city lifestyle are the most common reasons. If you are also considering making a change and moving into the hands of nature for a while, professionals from Royal Moving Company advise you to hire a moving company.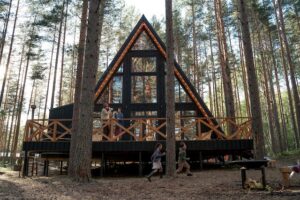 Family enjoys a cabin in the woods.
Things you should know about sustainable tourism 
Now we will focus on how you can reduce the impact on the environment in which you are staying. How should you treat the environment, what habits should you acquire, etc.? Just some of the tips for sustainable travel include: 
Make memories but don't leave a trace behind

It's important to support the local economy

Be a well-informed and respectful traveler
Make memories but don't leave a trace behind
Mass tourism causes damage to the environment, but individual travelers can reduce their impact by paying a little more attention. Staying in eco-friendly accommodations that limit energy and water use is an easy way to show respect for the earth and its inhabitants. Buying goods that don't involve the use of endangered species is becoming increasingly important. Such simple things allow us to leave behind more than a positive impression, some memories and our traces.
It's important to support the local economy
Focus on the local community rather than spending on big hotel chains. For this reason, it is always best to buy local products, negotiate a reasonable price and hire guides who know the region. Never purchase anything that is against international and local laws.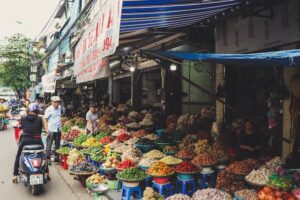 Person on a scooter in front of a traditional marketplace.
Be a well-informed and respectful traveler
Always make sure you are in good health before you leave, both for yourself and for the sake of others around you. Get informed about possible health risks before your trip. Choose a travel company that cares about the environment and may even continue outreach efforts. Before making any choice, ensure you have all the information you need. It is also crucial to respect local laws and customs when abroad. Instead of giving money to young beggars, donating to community initiatives, orphanages, or organizations is best. 
Behave as a responsible tourist and do good for your planet
When discussing sustainable tourism and how to travel responsibly, we aim to promote responsible tourism practices. Furthermore, helping the local community and not harming the destination's natural and cultural attractions is vital. Sustainable tourism relies on the participation of visitors who make conscious decisions about where they stay, how much trash they produce, how much money they spend, and how much respect they show for local traditions and customs. Sustainable tourism is a way of travel that benefits both the places you visit and the people who live there while allowing you an enriching and genuine experience.
main image: Animals among the ruins of a temple.